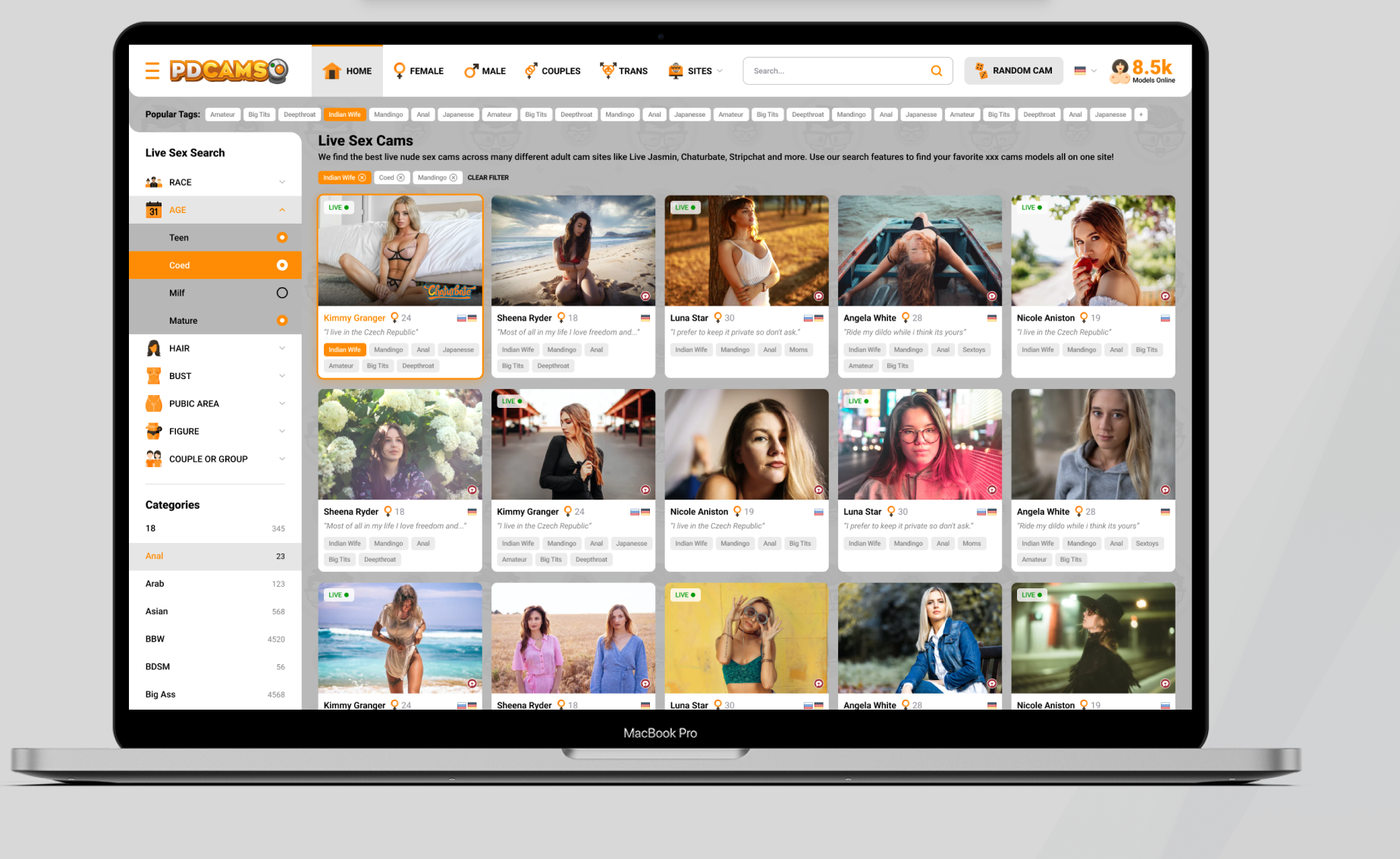 First time you visit PDCams
You will be able to watch live sex cams from your first visit to this website without bothering to confirm your age or doing anything else. Whether it's a disadvantage for them because they may violate the terms of the law, I believe it's a good thing for regular folks because anyone joins such sites is obviously looking to masturbate without being disturbed.
The homepage is simple to understand. All you see are the top live porn cams, where you can scroll down endlessly because other live models will appear every time you reach the footer, a navigation bar, a small logo in the style of ThePornDude, the number of live girls (so fucking many of them! ), and six buttons on the right side to sort the live cameras. These buttons let you arrange the live shows by men, women, live cam couples, and female boys, or just "All" to watch all of the live models at once!
The number of Live Girls – Why there are so many of them?
When I entered this porn website, the first thing that jumped out at me was the number of live models (well, if we ignore the goodies, yes, then the number of live models jumped out at me for the first-time eyes!) There were at least 9000 live models at 13:00 Romanian time, which is enormous for a video chat site that is only 9 months old. Something was fishy!
Even if we take into account the fact that the team behind this site is the team behind the giant ThePornDude, the growth was too astronomical in too short a time. After digging a little more, I realized that PDCams is actually an aggregator of live porn models! Don't get me wrong, there is nothing wrong with that, in fact, all my sites are of the same genre. In other words, if you want to see live models from several video chat sites, such as: Stripchat, BongaCams, Chaturbate, XLove, AmateurTV, simply go to PDCams.
How does it feel to watch a live model?
Once you enter the camera of a model that is live, you will be able to benefit from several facilities from the start, without having to connect. These facilities would be the possibility to change the resolution of the live (SD, HD, Full HD, and yes you can also rub your dick in 4K), to enlarge the screen to the maximum (Fullscreen), this is not possible on Chaturbate.
Another function that seems unique to me and that I haven't seen on other videochat sites is that you can change the next or previous model directly from a model's room, both in Fullscreen and when you have the video minimized. It is something unique and very useful.
But something very important is missing. Where the hell is the chat? Where are the guys who beg the model to show her pussy or breasts? It probably doesn't exist. Another thing I noticed is that when you click on Send Tip, you will be redirected directly to the site where the model comes from.
Final conclusions
Is it worth joining PDCams? From my point of view, a big yes. It's the first time I see a video chat aggregator site. I have seen sites that borrow videos from a single company, but not from the most popular ones. Effectively, on PDCams you have every whore from the entire globe.
There are things to improve, yes indeed. I honestly don't know if it is possible to add the models' chat on such a website, but if it were possible, then it would be a big plus. An enormously big plus. And when you put the mouse over a video, it should show you the last seconds of what's happening in the camera, but unfortunately this function is missing.